Diaper 911
It's every new parent's nightmare and, trust me, we've all been there.
It's changing time for your little bundle of joy and as you reach for a diaper...
… you find out that you are out of diapers...
in the middle of the night
on a road trip
when you're out of cash
Before the recriminations on who forgot to buy diapers begin, it is probably best to put your heads together and get your thinking caps on to work out a suitable diaper sub that can tide your baby or toddler over until you can grab some more.
If you have been searching online for diaper alternatives or makeshift diapers help is at hand as we fess up to the 6 best emergency diaper hacks, all tried and tested by a frantic parent in that crucial hour of need.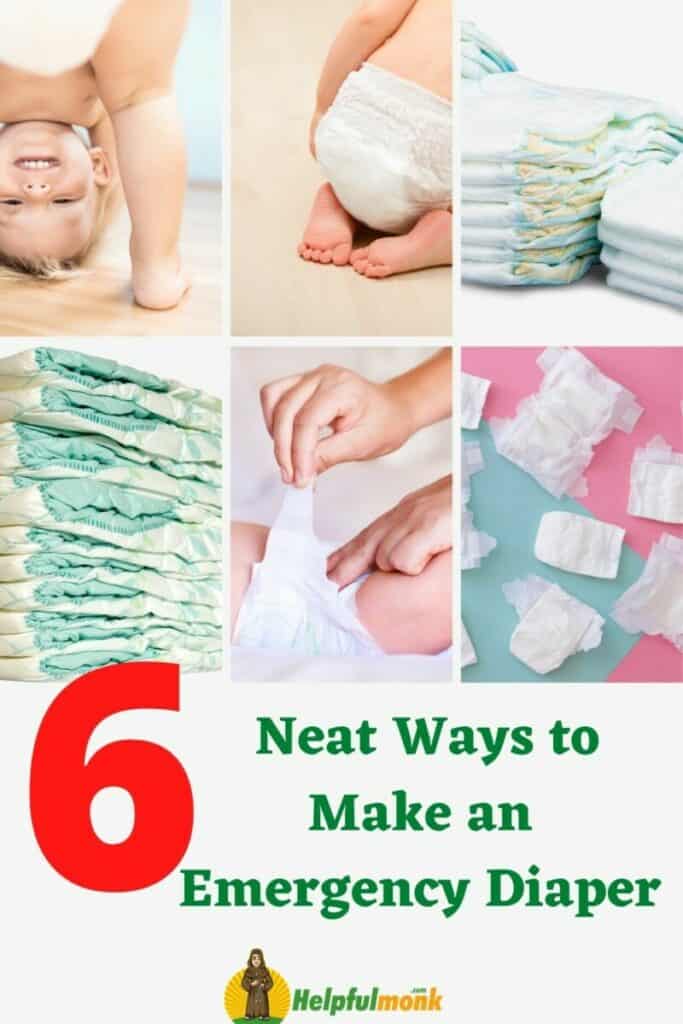 Without Further Ado, Here Are Your 6 Go-To Hacks for When You Run Out of Diapers!
The biggest problem with making an effective homemade diaper is its ability to absorb and hold urine. Therefore, look for solutions that have absorbent materials. Though you cannot make a diaper out of a toilet roll or kitchen paper towel, it may be well worth putting a thick layer as a fabric-covered insert within your emergency diaper to increase its absorbency.
To avoid nappy rash, always keep a cotton layer close to the skin and change the diaper as soon as it is soiled.
1. Work with what you've got - use baby clothes!
You probably have a stash of baby vests, bottoms, and sleepsuits that are usually made from gentle absorbent cotton. Put some bottoms or shorts on your little one and layer up folded cotton vests inside to soak up any wee or poo.
2. Grab and fill a big sibling's underwear!
It may require a bit of hunting but toddler or "big-kid" training pants from an older sibling are the perfect sub for a baby that has run out of diapers. The waterproof outer layer of training pants is great for preventing leaks. Filling these with some folded cotton vests or muslin cloths will buy you precious time before the next change.
3. Make a diaper out of a T-shirt
You may not want to share this diaper hack at playgroup but making a t-shirt diaper is a life skill that every parent should know. Toilet paper can be layered within the diaper to help soak up the pee. Taking inspiration from the old cloth diapers of old, you can fold and pin a t-shirt to make an effective diaper. Learn from the best with this excellent tutorial:
4. Fold a baby towel, sheet or cloth.
A folded baby towel or muslin cloth should be adequate to stand in for your regular diaper until replacements can be arranged. A lot of the folding techniques rely on a nappy pin to keep the diaper in place so your little one can move around. It is really important to use diaper pins, which have a plastic head that slides over the clasp of the pin to protect young children from accidental release of the sharp point.
5. Don't blush, maxi pads can be used to make a homemade diaper.
For many parents who are stuck for a solution, thick maxi pads or maternity towels can be put to good work as a clean sanitary workaround for a diaper. It is a little cringeworthy, but you will find that they provide good capacity for a young child. The best way to use them is to insert them into the clothing or fabric you are using as a diaper and stick them in place.
6. Take a pair of scissors to a plastic bag for a smart emergency diaper design.
If your bedding, upholstery, or carpets cannot risk leakage from a makeshift diaper, waterproofing will be critical to your design. Why not follow this ingenious YouTube tutorial for folding a plastic bag to make a waterproof diaper. Definitely one to share:
Frequently Asked Questions
Q. Will these diaper hacks work for toddlers?
Making homemade diapers is all about working with what you've got and adding in a little creativity along the way. The diaper hacks we share are scalable to the size of your child. We have found that the most critical factor for bigger kids will be the amount of absorbent material you include as they produce a greater volume of urine.
Q. Is it worth putting the baby on the potty or toilet?
Some parents use this hassle as the impetus to speed up potty or toilet training, but with young babies, or overnight, this just isn't going to be possible.
Q. Can you put soiled fabrics that have been used as diapers in your laundry?
Your used makeshift diapers don't need to hit the trash can when you're done. Like moms and dads of old would do every wash day, your baby's diapers can be fully laundered, with no-one needing to know that that well-loved t-shirt pulled a shift on baby's behind. Here are some quick tips for getting your hard-wearing fabrics the deep-down clean they need:
Remove solids: leaving deposits in the diaper will make your washer look and smell like a sewer. Scrape waste into the toilet or bin them.
Rinse out urine: depending on the efficiency of your laundry cycle, urine can linger on stained fabrics. Rinse your diaper material out or soak it with white vinegar and bicarb before putting it in the wash.
Wash at a high temperature: this will ensure that the fabrics are fully sanitized.
Air dry with plenty of sunlight: sunlight is a natural disinfectant and will bleach any slight staining.
Exhale. Relax. You've Got This.
We hope we have helped you out of a tight space with our diaper substitute hacks.
Getting caught without diapers is no fun but with some simple subs, you can easily wait it out and keep your baby clean and comfortable.