With spring on the way, the days are getting longer and brighter. As a result, many are experiencing the spring-cleaning bug. It's time to beautify and purify the home, and to fill it with fresh air!
Of course, there's a lot to do, and there might be some things you forget. To help you out, here are 21 clever spring-cleaning ideas you might not have thought of: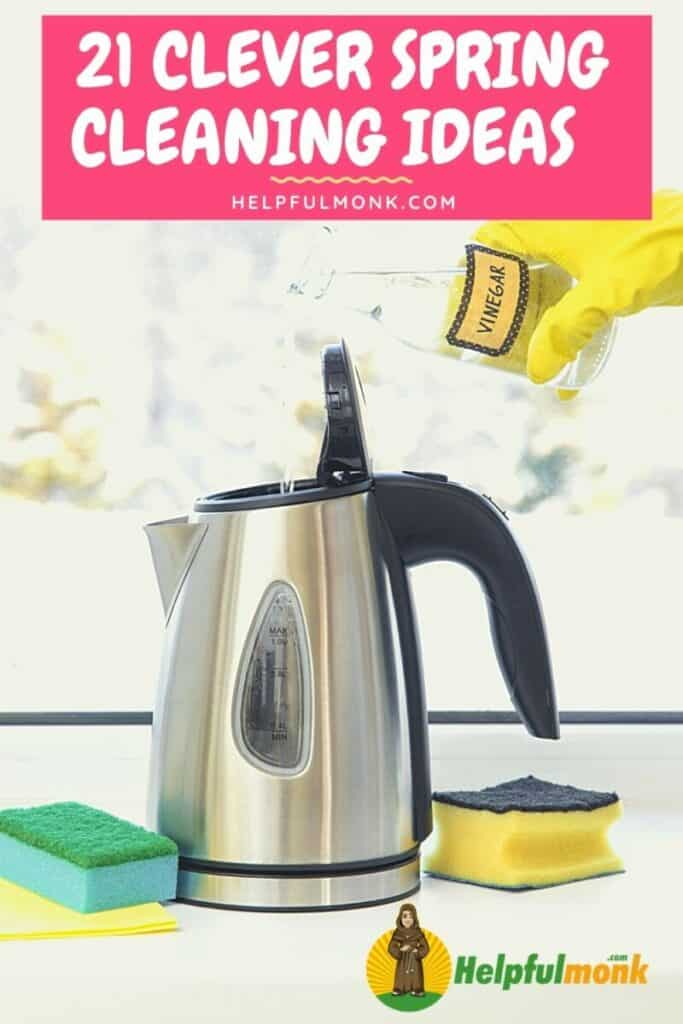 1. Go All-Natural
Spring is nearly here, and the air is getting fresher. Why spoil that with toxic cleaners? Consider replacing old, harsh cleaners with ones that are all-natural. The best of them work just as well; and instead of smelling like chemicals, they smell like lemon, lavender, etc. What more can you ask?
2. Clean Out Your Microwave with Lemon and Vinegar
Microwaves always seem to end up rather dirty, with beans or soup arrayed in an unsightly splatter. What's more, getting into such a small space can be a bit of a task. Luckily, all that you need to make things considerably easier is a lemon, and perhaps a bit of vinegar.
How do you do it? Just place a halved lemon in a bowl along with ½ cup of water. If the microwave is extra messy, you can add 1 TBSP of heavy-duty white vinegar.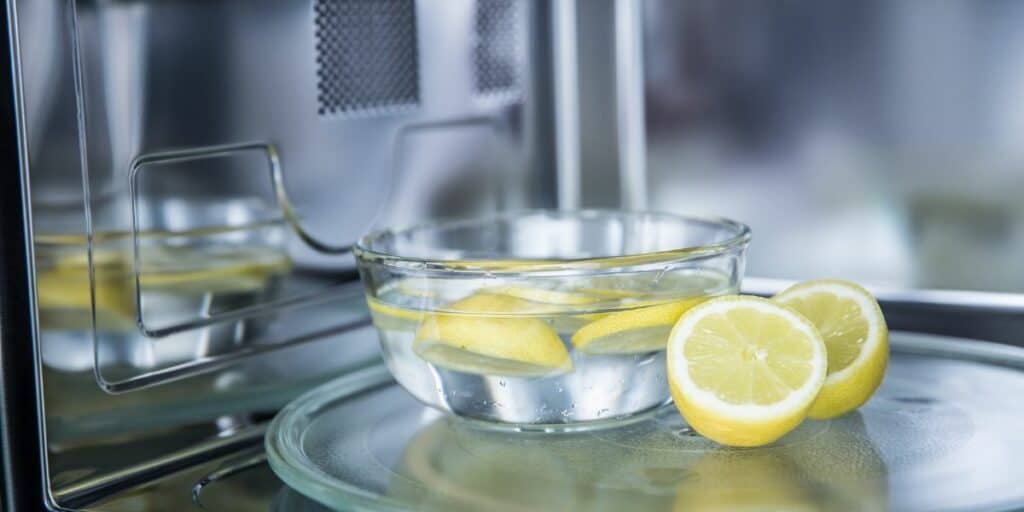 3. Clean Your Mirrors with a Soft Cotton T-Shirt
Are streaky mirrors an issue for you? We've got you covered with this cotton T-shirt hack. In place of a rag or towel, try wiping down and drying your mirrors with a soft cotton T-shirt. This will leave your mirror streak-free and shinier than ever!
4. Refresh Your Shoes with Baking Powder
Now that you're bringing out shoes for warm weather, you might notice that some of them have a bit of a, well, a funk. While this happens to everyone, the experience is not exactly pleasant.
Fortunately, you can nip shoe odor in the bud with some baking powder. Sprinkle it inside of the shoes generously, leave overnight, and enjoy shoes that are virtually free of odor.
5. Super-Sanitize Your Knife Block
First off, as you probably know, you want to dry your knives before placing them back in the knife block. Germs are still sure to accumulate eventually, however. You can keep your knife block nice and hygienic by giving it a thorough wash with soap and water.
Scrub the slots out with a baby bottle brush or something similar. Follow this with a diluted bleach solution of TBSP bleach to 1 gallon of water.
6. Run White Vinegar Through Your Dishwasher
Over time, scum is sure to build up in your dishwasher. As a result, the dishes may end up with mineral deposits themselves, which are unsightly. Luckily, to get your shiny dishes back, all that you need to do is run your dishwasher with 1-2 cups of white vinegar, and hot water!
7. Dust Your Ceiling Fans Like A Pro
You may not be able to see the tops of your ceiling fans, but chances are good that they're covered with dust. It accumulates so quickly, it's out of sight, and it's a hassle to get rid of.
To make the process much simpler, lay some sheets out beneath each fan and use a duster to brush the dust onto the sheets. Then, just take the dust outside and shake it off.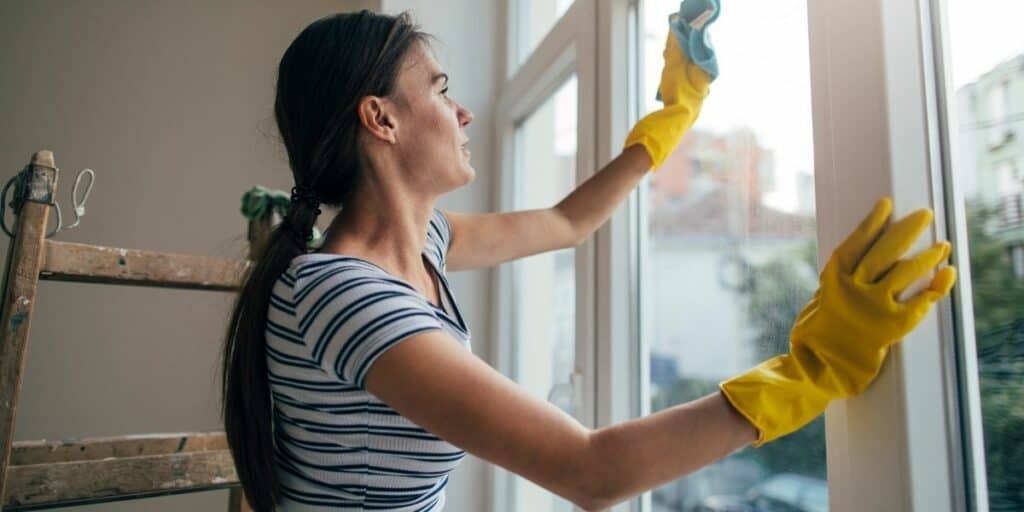 8. Clean the Windows When It's Shady and Cool
It can seem kind of impossible to get a streak-free window.
Part of this is because the sun causes the cleaner to dry too quickly.
To combat this, and achieve crystal-clear windows, try cleaning them when it's shady and cool.
9. Disinfect Your Cell Phone
Some say that cellphones are even germier than a toilet. Whether or not this is true, cellphones certainly do get very germy.
Make disinfecting your cellphone a part of your spring-cleaning list.
When sickness is going around, this is more important than ever!
10. Release the Stagnant Winter Air
In German, 'Lüften' means 'to lift into the air.' It's used to describe when the windows are left open for a few hours to release the stagnant air from the winter.
What better to renew the home in spring than fresh air?
11. Clean Your Tea Kettle with Vinegar
If your tea kettle is getting a little scummy with mineral deposits, you can solve the issue with some white vinegar.
Simply combine equal parts vinegar and water in the kettle and bring to a boil. Allow to sit for a few hours, rinse, and if necessary, repeat.
Soon, your tea kettle will gleam like new!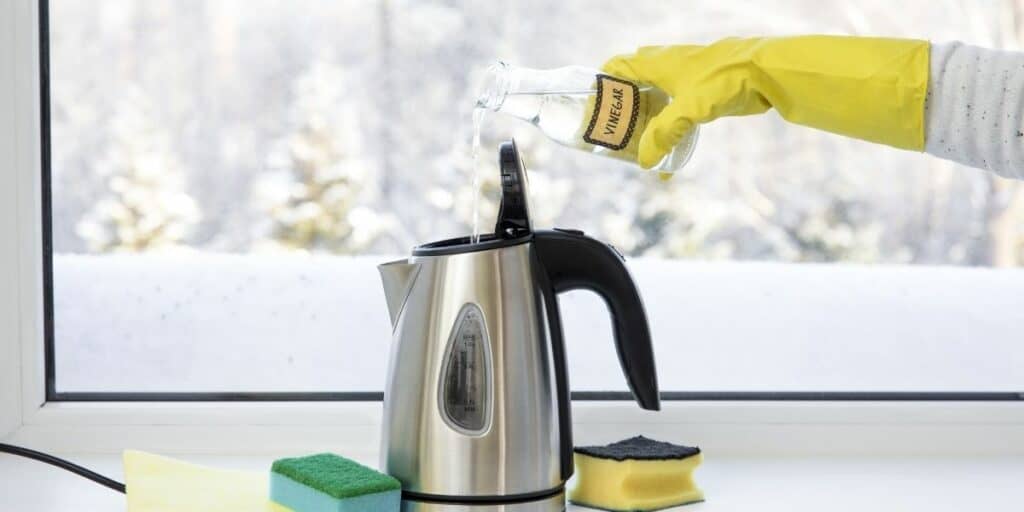 12. Clean the Pet Beds
If your pet beds are machine washable, toss them in the washing machine.
If not, give them a handwash, and if that's not possible, you can place them outside in the cold or heat. The extreme temperature and sunlight will both kill off mites and air out any odor.
13. Declutter Your Camera Roll
Decluttering your camera roll perfectly fits the spirit of spring-cleaning and can be a nice source of stress relief.
14. Disinfect the Trash Cans
Disinfect your trash cans and get rid of weeks (or maybe months) of accumulated grime and odor.
15. Rent a Steam Cleaner
If you don't have one of your own, rent a steam cleaner. You'd be amazed at how clean these can get both carpets and furniture.
Once the steam cleaner has gone over them, the fading from grime will largely be removed, leaving your carpet and furniture almost good as new!
16. Clean Throw Pillows in the Sun or in the Dryer
Throw pillows tend to be a source of dust mites, which are clearly undesirable.
To get rid of the mites, you can place the pillows in the sun or in the dryer. The heat should kill most of them off.
17. Wash Out the Washing Machine with Vinegar
Even your washing machine is sure to accumulate some grime or mineral deposits eventually. Once again, this can be solved with ever-versatile white vinegar.
How? Simply start the machine on its hottest, most heavy-duty setting, and add 4 cups of vinegar. Once the machine has filled up, pause it and allow the vinegar and water solution to soak.
Then, let the machine finish its cycle, and voila, you have a sparkling clean washer!
19. Freshen Your Mattress with Baking Soda
Sadly, you can't just pop your mattress into the washing machine, even as it accumulates body oil and odor. This being said, you can absorb a lot of this with good, old-fashioned baking soda.
Sprinkle the baking soda on the bare mattress generously and allow it to sit for a few hours. Then, vacuum the baking soda off, and it should take an impressive amount of oil and odor with it.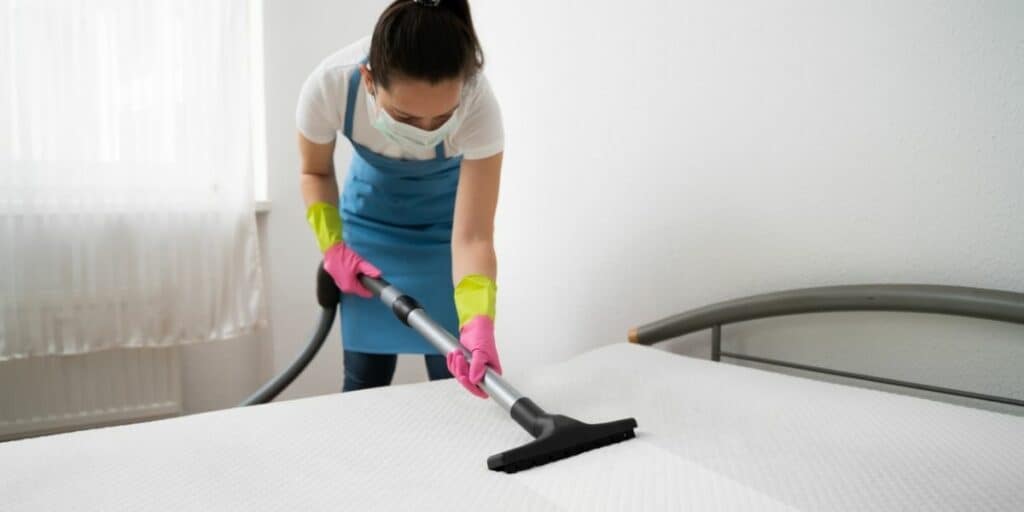 20. Deep Clean Your Refrigerator
One of the best things you can clean for your peace of mind is your refrigerator. When you're looking for food, the last thing you want is to have to rummage through old Tupperware, or worse, catch a whiff of ripe, old leftovers.
Give your refrigerator a deep-clean, and enjoy the airy, aesthetic look, the convenience of finding things quickly, and the security of knowing that everything stored within is fresh and good to eat.
21. Put the Shower Curtain and Liner in the Washer
Did you know that you can put your shower curtain and liner in the washing machine? Well, you can, and it will get both curtain and liner cleaner than ever.
Most curtains can also go on a gentle tumble in the dryer (although you'll want to double-check), and you'll want to air-dry the liner.
---
Conclusion
As you can see, there are heaps of ways to clean and freshen your home, and just in time for spring weather!
Do any of them catch your eye? Let us know!
---